I've worked with babies, children, teenagers, in events, weddings and families to capture both traditional and creative portraits they love. I most enjoy the in-between moments when I can grab a candid moment between family or the beauty of someone genuinely laughing.
The client relationship is very important to me and I'm dedicated to bringing your vision to life. I welcome collaboration to help me customize your shoot in any way. I hand make most props and sets and happy to personalize it to your liking! The relationship starts at collaboration and guidance in colors and theme, to wardrobe, hair, preferences straight through to editing and choosing prints.
At the end of the day,
getting you a photo
that makes you smile
is all that's important.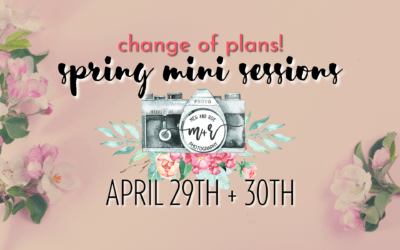 I lied to you. I'm sorry. I'll now be holding the mini sessions a week later than previously stated. The new dates for these spring mini sessions will be... Saturday April 29th and Sunday the 30th!Saturday 1-6pm or Sunday 2-6pm20 minute sessions7 high-res digital...
read more