I love the fact that I can't choose a favorite session… 
Sessions are generally an hour long. All come with a personal online proofing gallery of all edited images for you to view and share your link.  The gallery is ready within 1-2 weeks! 
Working with Meg and Roe is a really fun process.
I'm easily accessible and open to questions, always willing to give advice on preparing for your session, and love collaboration. Most clients I've had have shared a Pinterest board with me to help us both give a little direction. Though I have outdoor space and an in-home studio perfect for children, I have no problem traveling to you! Sessions are always carefree and easy going…and a little laughter never hurts.
After your session, I normally share a sneak peek to my social media accounts within a week. You receive an online gallery of high resolution images for you to proof before downloading your included digital files. I do offer additional editing before you finalize your selection or purchase prints from my professional print lab.
Your gallery will be ready within 2 weeks of your session.  
FAQ page coming soon. Very soon..but for now, here are a few…
Frequently Asked Questions
Some pages of interest...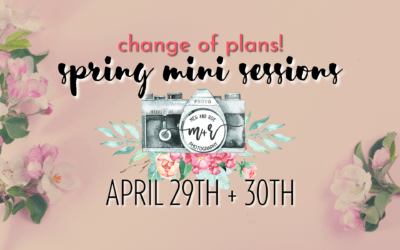 I lied to you. I'm sorry. I'll now be holding the mini sessions a week later than previously stated. The new dates for these spring mini sessions will be... Saturday April 29th and Sunday the 30th!Saturday 1-6pm or Sunday 2-6pm20 minute sessions7 high-res digital...
read more